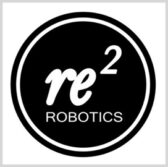 RE2 Robotics has received a U.S. Air Force grant to help the service branch create a drop-in robotic system designed to convert traditional manned aircraft platforms to robotically piloted, autonomous aircraft.
The company said Wednesday it aims to demonstrate cognitive architecture decision making, humanoid-like robotic manipulation, system architecture feasibility and vision-based flight-status recognition through the Common Aircraft Retrofit for Novel Autonomous Control program.
Jorgen Pedersen, president and CEO of RE2 Robotics, said the company will develop the drop-in robotic pilot system in efforts to facilitate autonomy for aircraft and expand the capacity of traditionally manned air vehicles as well as ground and underwater vehicles.
Pedersen added the company will leverage its experience in applique systems, decision making systems and vision processing algorithms to develop a customized robotic application for multiple aircraft platforms.
The Air Force awarded the funds to RE3 via the Small Business Innovation Research program.