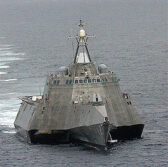 A team composed of Raytheon and Kongsberg Grupen plans to offer the U.S. Navy a precision missile system in a bid to address the service branch's over-the-horizon requirement for littoral combat ships and frigates.
The alliance's Naval Strike Missile offering for the Navy will feature seeker and target identification technologies designed to defend against land and sea targets as well as penetrate adversarial defense systems, Raytheon said Wednesday.
The service branch set a June 23 deadline for OTH missile proposals.
Mike Jarrett, vice president of Raytheon's air warfare systems business, said the NSM technology will be designed to offer long-range firepower for naval ships.
Pal Bratlie, an executive vice president of Kongsberg, said he believes the missile offering will help the Navy to maintain freedom of access to seas worldwide.
Raytheon plans to manufacture components, launchers and missiles in the U.S. as part of its NSM teaming agreement with Kongsberg.