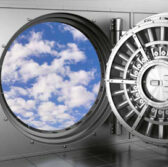 Qualys has unveiled a cloud platform designed to help federal agencies comply with the requirements of an executive order that seeks to build up the cybersecurity posture of the federal government's networks and U.S. critical infrastructure.
The EO signed by President Donald Trump in May requires agencies to manage cyber risks through the adoption of the Defense Information Systems Agency's Security Technical Implementation Guides as well as review and report their cyber posture through the implementation of the National Institute of Standards and Technology's Cybersecurity Framework, Qualys said Monday.
The Qualys Cloud Platform has Policy Compliance and Security Assessment Questionnaire cloud service offerings that work to support EO requirements.
Qualys PC is designed to help users comply with multiple standards and mandates through automated coordination of requirements from several standards, while Qualys SAQ works to help clients evaluate standards' procedural controls and assess third-party vendors' compliance with security requirements.
Philippe Courtot, chairman and CEO of Qualys, said the company's cloud platform seeks to offer federal agencies a unified system designed to provide "the 2-second visibility of continuous security and compliance posture of IT assets at an agency-wide level."
The Qualys Cloud Platform received the authority-to-operate designation under the Federal Risk and Authorization Management Program in November 2016.