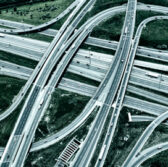 Jacobs Engineering Group has received a 10-year, multimillion dollar contract to design a multimodal system for the Pennsylvania Transportation Department to manage traffic along the city of Philadelphia's Interstate 76.
The company said Tuesday it will also perform systems engineering, analysis of  alternatives, right-of-way acquisition and construction consultation to support arterials throughout the Pennsylvania Turnpike and U.S. Route 1 interchanges.
The contract will also cover support for connected vehicle applications, dynamic lane assignment, junction control, part-time shoulder use, ramp metering, speed limit signs and queue detection systems.
Leslie Richards, PennDOT secretary of transportation, said the the agency must utilize new technologies and team up with partners like Jacobs and the Southeastern Pennsylvania Transportation Authority to boost travel options across the Philadelphia region.
Bob Pragada, president of Jacobs' buildings and infrastructure business, said the company will work to develop practical travel services for the region and aid the commuting public in Philadelphia.