Orbital ATK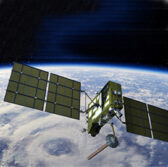 and NASA have completed the preliminary design review of a docking component of its Mission Extension Vehicle.
The Rendezvous, Proximity Operations and Docking system consists of actuators, control algorithms and sensors that work to help MEV-1 detect, monitor and move toward a client spacecraft, Orbital ATK said Tuesday.
The company and NASA conducted the RPOD system review under the Collaboration for Commercial Space Capabilities Space Act Agreement signed in 2014.
NASA also provided feedback on the RPOD platform's lighting design, electrostatic discharge management and concept of operations assessment under the SAA.
"NASA's collaboration and feedback are helping us ensure that we are on the right track to delivering a safe and successful mission with our MEV product while pioneering a new market in satellite servicing," said Frank Culbertson, president of space systems group at Orbital ATK.
MEV-1 is based on the Orbital ATK-built GEOStar space vehicle bus platform and is designed to provide in-space servicing support to extend the life of in-orbit satellites.
The vehicle is scheduled to launch in 2018 and start its five-year satellite extension service for Intelsat by 2019 under a contract signed in April 2016.