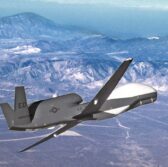 NTT Data plans to launch in October a set of software tools designed help users remotely operate and facilitate airspace management for multiple unmanned aircraft systems.
NTT Data"™s airpalette UTM software package has the Flight Operation System designed to control drone operations and UAS Traffic Management core feature that works to help airspace managers carry out drone traffic management operations, the company said Wednesday.
The package"™s FOS tool is built to assist drone operators to simultaneously operate multiple unmanned systems through various networks, perform flight planning and data management operations as well as determine topographic data, weather and restricted airspace.
The UTM core works to help airspace managers detect restricted airspace entry and potential mid-air collisions as well as perform flight plan verification and data transmission operations.