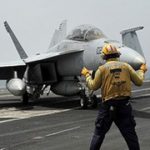 Boeing has received a $48.9 million delivery order to provide retrofit kits for the F/A-18 Hornet jets of the U.S. Navy and Australia.
The order will support an engineering change proposal under the combat aircraft's trailing edge flap retrofit redesign program, the Defense Department said Monday.
DoD noted the full obligated amount at the time of award is from fiscal 2017 Navy aircraft procurement and foreign military sales funds.
The Pentagon expects Boeing to complete work in February 2020.