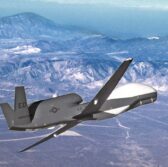 The Missile Defense Agency has posted a request for information on a high altitude, long endurance unmanned aircraft system that can provide support in the 2023 timeframe.
MDA said Tuesday in a FedBizOpps notice that the UAS should be able to carry a high energy laser system payload to high altitudes to mature boost phase intercept, or the capacity to destroy missiles while in boost phase.
The agency will also consider manned platforms and will use the RFI responses to inform BPI technology maturation efforts.
MDA expects to operate the aircraft from the Pacific Missile Range Facility in Hawaii and Edwards Air Force Base in California.
Proposed UAS should feature on-station altitude of more than 63,000 feet, flight endurance greater than 36 hours on-station and at least 5,000 pounds of payload capacity, among others.
Interested vendors can submit responses until August 16.