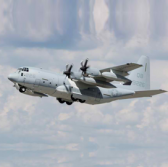 Lockheed Martin has received a $59 million contract modification from the U.S. Air Force for the delivery of four customized KC-130J fuselage trainers.
The Defense Department said Friday that Lockheed's rotary and mission systems unit will modify C-130 airframe trainer systems to replicate the appearance, functions and performance of the KC-130J aircraft.
DoD noted that modified trainers will support load training and pre- and post-flight inspections on the aircraft's interior and exterior settings.
The Air Force Life Cycle Management Center obligated the full amount of the modification from the service branch's fiscal 2015 and fiscal 2016 procurement funds.
Work will occur in Tulsa, Oklahoma, and Marietta, Georgia, through Dec. 31, 2021.
Lockheed provides C-130J training devices as well as aircrew instruction, operations, engineering services and logistics support with the company's C-130J Maintenance and Aircrew Training System.