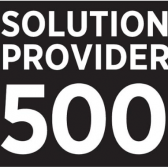 Knight Point Systems (KPS) has been named named to CRN®'s 2017 Solution Provider 500 list, an annual ranking of the largest technology integrators, solution providers and IT consultants in North America by revenue.
Knight Point Systems provides a wide spectrum of IT management, product, and IT service, technology and consulting services to the U.S. federal government and commercial enterprises.
"Being named to 2017 Solution Provider 500 list and recognized as a leader in this industry by the Channel Company is a great honor," said Knight Point Systems CEO, Bob Eisiminger. "Knight Point's rapid growth and yearly rankings are due to the dedication of our employees and our commitment to delivering proven value-added solutions to our customers. Our main objective continues to be to develop creative solutions to exceed our clients' needs with the highest quality service; we are proud to be one of the top solution providers in the country."
"CRN's Solution Provider 500 list spotlights the North American IT channel partner organizations that have earned the highest revenue over the past year, providing a valuable resource to vendors looking for top solution providers to partner with," said Robert Faletra, CEO of The Channel Company. "The companies on this year's list represent an incredible, combined revenue of over $318 billion, a sum that attests to their success in staying ahead of rapidly changing market demands. We extend our sincerest congratulations to each of these top-performing solution providers and look forward to their future pursuits and successes."
A sample from the list will be featured in the June issue of CRN Magazine.