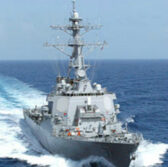 Huntington Ingalls Industries has received a contract modification from the U.S. Navy to install Flight III baseline updates aboard the Arleigh Burke-class guided missile destroyer Jack H. Lucas (DDG 125).
The modification covers the installation of the SPY-6 air and missile defense radar system as well as electrical power and cooling upgrades to the ship under the DDG 51 Flight III baseline contract, the Defense Department said Tuesday.
Work will occur in Mississippi, Ohio, Massachusetts, Pennsylvania, New Jersey, Virginia and other locations through fiscal 2024.
The Naval Sea Systems Command will obligate fiscal 2017 shipbuilding and conversion funds at the time of award.
The ship is named after Medal of Honor recipient Capt. Jack Lucas, who is the youngest warfighter to join the U.S. Marine Corps Reserve during World War II, HII said Tuesday.
"This will be the 35th Aegis destroyer we will build for the U.S. Navy," said Brian Cuccias, president of HII"™s Ingalls Shipbuilding division.
HII has handed over 29 Arleigh Burke-class destroyers to the service branch and is slated to commission the John Finn (DDG 113) ship on July 15 in Hawaii.