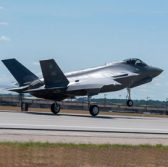 A joint venture of Galliford Try and Lagan Construction has secured a potential $170.9 million contract from the U.K.'s ministry of defense to build an F-35B aircraft hangar at a Royal Air Force base in Marham, England.
The ministry said Wednesday contract funds will be used to update existing facilities, add vertical landing pads for the fighter aircraft and resurface two runways and taxiways at the station.
The investment marks the last of seven projects, worth $316.5 million in total, awarded by the ministry to prepare the RAF Marham base for the arrival of the F-35B aircraft in 2018.
The U.K. air force and navy will fly the jets from Queen Elizabeth-class carriers or domestic operating bases.
RAF's 617 Squadron will initially operate the F-35B and initial flight trials will occur on the HMS Queen Elizabeth  carrier next year.
F-35B is the short-takeoff-and-vertical-landing variant of the Lockheed Martin-built fifth generation multirole fighter.