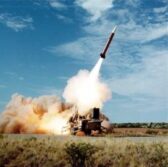 The U.S. Army plans to conduct a competition to find a replacement for its Patriot radar system through the Lower-Tier Air-and-Missile Defense Sensor program, Defense News reported Friday.
Dan O"™Boyle, an Army spokesman, said the service branch plans to begin the Milestone A phase, also known as technology maturation and risk reduction, in fiscal 2018 for the LTAMDS program in an effort "to develop a mature effort, foster competition, assess industry readiness, reduce programmatic and technical risks, as well as reduce total ownership costs."
The military branch requested information in 2016 on potential radar platforms for the Integrated Air and Missile Defense System equipped with a sensor, which is expected to achieve initial operational capability before fiscal 2028.
Lockheed Martin and Raytheon responded to the request for information on the Army"™s LTAMDS program.
The report added Northrop Grumman currently develops an IAMD battle command system for the service branch.