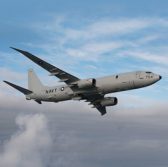 Boeing has secured a contract to supply portable trainer units designed to help the U.S. Navy's P-8A Poseidon aircrew and operators prepare for missions while in service outside of the country.
The company said Tuesday it will deliver seven P-8A deployable mission readiness trainers to the service branch beginning in 2019.
Seventy percent of the Navy's P-8A training efforts at naval air stations in Jacksonville, Florida and Whidbey Island, Washington use simulators and other trainers while the remaining 30 percent take place on actual aircraft, Boeing noted.
Each DMRT will be equipped with the company's Weapons Tactics Trainer system that includes sonobuoy and ocean acoustics modeling elements.
John Thoe, P-8A training systems integrated product team lead at Boeing, said the DMRTs will aid in crew-based training services for deployed squadrons and anti-submarine warfare readiness programs for members of the maritime patrol reconnaissance community.