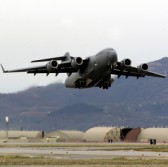 Boeing has received a potential $53.4 million contract from Australia's capability acquisition and sustainment group to provide sustainment services for the Australian air force's fleet of C-17A Globemaster III transport aircraft.
The contract has a base term of five years and covers service management, integration, engineering and maintenance support for eight C-17As based at the Royal Australian Air Force Base Amberley, Boeing said Wednesday.
Darren Edwards, vice president and managing director of Boeing Defense Australia, said the contract reflects the company's commitment as an in-service support partner to RAAF.
Adrian Morrison, director of RAAF's heavy air lift program office, added the contract helps the military branch to prepare for evolving mission requirements and seek continued support from the U.S. Air Force via the Globemaster Integrated Sustainment Program.