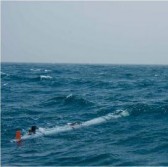 Boeing and Huntington Ingalls Industries have partnered to design and build unmanned undersea vehicles as part of a joint pursuit of the U.S. Navy's Extra Large UUV program.
The partnership will use HII's design and production facilities in Huntington Beach, California; Newport News, Virginia; and Panama City, Florida, Boeing said Thursday.
The Navy announced in January it plans to issue a request for proposals for the XLUUV program, which aims to develop a network of large UUVs that will serve as communication tools.
Two companies will be chosen to participate in the design phase then one firm will be selected to build the first five underwater drones, Navy official Capt. Jon Rucker said at the time.
Boeing's newest and largest UUV dubbed Echo Voyager currently undergoes tests off the coast of Southern California.
The platform is designed to aid multiple missions; provide a modular payload bay of up to 34 feet; and require no support vessel for launch or recovery, Boeing noted.