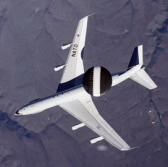 The U.S. Air Force has awarded Boeing's defense, space and security division a five-year, $38.4 million contract to support mid-life upgrade and in-service sustainment efforts for France's airborne warning and control system aircraft.
The Defense Department said Thursday that BDS will provide recurring and non-recurring engineering services to French E-3F Sentry AWACS fleet under the indefinite-delivery/indefinite-quantity contract.
USAF obligated $1.9 million in funds at the time of award.
Work under the sole-source contract will occur through July 16, 2022, in Oklahoma City, Oklahoma.
The E-3 Sentry is equipped with an integrated command-and-control battle management, target detection, tracking and surveillance platform that works to provide early warning of adversarial moves during joint, coalition and allied missions.