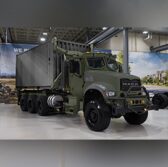 BAE Systems and QinetiQ have entered into a teaming agreement with the goal to help foster worldwide adoption of an electric drive transmission technology designed for ground combat vehicles.
QinetiQ said May 25 it aims to combine the firm's electric drive expertise with BAE"™s systems design, development, manufacturing and integration experience in efforts to  support utilization of the E-X-Drive system.
E-X-Drive is designed to power communications, radar and weapon systems in tactical vehicles.
David Moore, campaign director for electrical propulsion and drivetrains at QinetiQ, said the teaming agreement seeks to open new opportunities for customers to exploit the potential of electric drive technology.
Dean Medland, vice president of combat vehicle programs at BAE, added the partnership aims to help increase the peformance of current and future combat vehicle platforms with new technology.
The two companies have collaborated on the advancement of electric drive systems since 2004 in support of the U.S. Army's Future Combat System and Ground Combat Vehicle programs.