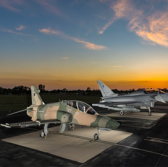 BAE Systems delivered the first of 12 Eurofighter Typhoon combat jets built for the air force of Oman during a ceremony held Wednesday at the country's Adam military base.
The company said Friday the delivery follows an official roll-out of Oman's Typhoon unit alongside a Hawk jet trainer at a company facility in Warton, England, in May.
Oman ordered a dozen Eurofighter Typhoons and eight Hawk training aircraft in December 2012.
Typhoon is a multirole fighter aircraft designed to support a spectrum of airborne missions such as air policing and peace support operations.