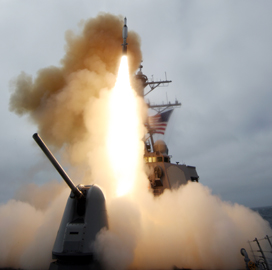 Australia"™s defense department accepted its first Hobart-class air warfare destroyer equipped with the Lockheed Martin-built Aegis combat system during a ceremony held Friday in Adelaide.
Australia has become the sixth allied country to receive a destroyer ship with the Aegis system, Lockheed said Friday.
Vince Di Pietro, CEO of Lockheed"™s Australian arm, said the company is prepared to equip Australia"™s future frigates and other programs with the Aegis system.
Aegis is a command-and-control, automated weapons control platform designed to support cooperative engagement and network-centric warfare operations as well as host missile technologies.
The ship is the first of three Hobart-class multimission destroyers to be equipped with the Aegis weapon system as part of Australia"™s SEA 4000 program that aims to deliver the vessels by the end of 2019.
A team of engineers at Lockheed has installed the Aegis computer program onboard the second Hobart-class destroyer ship – Brisbane.