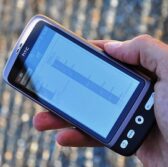 A business unit of Airbus' defense and space arm will launch a tool that is designed to provide location data for 9-1-1 wireless calls to public safety answering points via RapidSOS' data repository.
Airbus DS Communications said Thursday its new VESTA Map Local platform will work to check whether a caller's device-based location data is available on RapidSOS' NG9-1-1 Clearinghouse repository then present the device location to the call taker.
Jeroen de Witte, chief technology officer at Airbus DS Communications, said the company plans to increase information available within its VESTA Map and VESTA 9-1-1 tools to support 9-1-1 data sharing with other PSAP applications.
Airbus DS Communications will demonstrate VESTA Map at the National Emergency Number Association 2017 Conference & Expo through June 8 in San Antonio, Texas.
The company will show how location data from RapidSOS can be plotted on VESTA Map as well as how RapidSOS can transfer device-based hybrid locations to VESTA 9-1-1 consoles using sensors on smartphones such as global positioning system, Wi-Fi access points and bluetooth beacons.
De Witte noted smartphones need to be activated using an application to enable the transmission of RapidSOS supplemental location data with a 9-1-1 call.
He added smartphone manufacturers should integrate the RapidSOS technology natively to support public safety efforts.