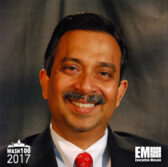 Unisys has won a potential four-year, $17.6 million task order to continue to help the Internal Revenue Service operate, maintain and update a system the government uses to monitor and verify excise fuel tax filings.
The company said Tuesday it will perform maintenance work on IRS' Excise Files Information Retrieval System code as part of efforts to help the agency ensure that  the motor fuel industry's complies with excise law.
PV Puvvada, president of Unisys' federal business unit, said the company will assist IRS to ensure proper payment of fuel taxes.
"This award represents another milestone in Unisys' relationship with a government client performing critical work on behalf of U.S. citizens," added Puvvada, an inductee into Executive Mosaic's Wash100 for 2017.
The order was awarded through the Total Information Processing Support Services-4 contract vehicle and contains a one-year base period and three one-year options.