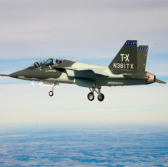 Sweden would consider buying the trainer aircraft from a team composed of Boeing and Saab to replace its aging fleet of trainer jets if both companies land the T-X contract with the U.S. Air Force, Defense News reported Monday.
Col. Magnus Liljegren, head of Sweden's air force department, told reporters during a Monday briefing in Stockholm that it would look for a cheaper glass cockpit-equipped trainer jet if the Boeing-Saab team does not win the T-X competition.
The Swedish air force plans to continue using its fleet of 50 Saab 105 trainers through 2025 or 2026.
The report said that USAFÂ has begun the source-selection process and expects to award the T-X contract by the end of this year.
Other industry teams vying for the T-X program include:
Leonardo's DRS subsidiary in collaboration with CAE's U.S. arm and International Turbine Engine Co.
Lockheed Martin and Korean Aerospace Industries
Sierra Nevada Corp. and Turkish Aerospace Industries