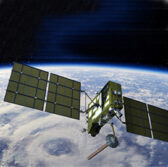 COMSAT and Speedcast International have entered into a partnership agreement to offer global network services to government and maritime customers.
The joint offering will combine Speedcast's 8+ gigahertz of global satellite capacity with COMSAT's U.S.-based teleports to provide Ku-band very small aperture terminal services for customers that need resilient connectivity, Speedcast said Thursday.
COMSAT will also deliver hosting services as well as technical and engineering support to help interconnect and migrate network segments, Speedcast added.
The combined network service is intended to give government customers access to the largest private iDirect bandwidth network through teleports and terrestrial nodes in NATO or Five Eyes nations.
COMSAT delivers customized satellite services for aeronautical, land and maritime service environments while Speedcast offers remote communication and information technology services for maritime, oil and gas, enterprise, media, cruise and government client.