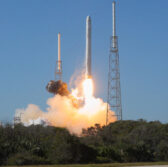 A SpaceX-built Dragon spacecraft is set to launch on June 1 aboard a Falcon 9 rocket from a launch pad at NASA"™s Kennedy Space Center in Florida to deliver crew supplies, scientific research and related equipment to the International Space Station.
NASA said Saturday the 11th cargo resupply mission will bring to the ISS several scientific experiments and equipment that include the Roll-Out Solar Array test concept, Neutron Star Interior Composition Explored payload and the Multiple User System for Earth Sensing facility.
ROSA is a solar panel concept designed to supply power to electric thrusters of NASA"™s future spacecraft, while NICER is a payload that seeks to explore the physics of neutron stars.
Teledyne Brown Engineering built the MUSERS facility designed to host hyperspectral imagers, high-resolution digital cameras and other Earth-viewing tools to collect data for use in disaster response, gas exploration, agricultural and maritime awareness applications.
Other experiments that will fly aboard the Dragon spacecraft include Rodent Research 5 that seeks to study a potential drug for osteoporosis, the Capillary Structures experiment that aims to explore a water recycling method and the Fruit Fly Lab-02 study that intends to investigate the effects of prolonged microgravity exposure on the heart.
The announcement came three months after SpaceX performed its 10th CRS mission to the orbiting laboratory.