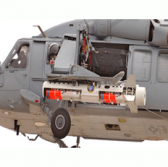 Raytheon has received a potential two-year, $58.1 million contract to assemble, fabricate and test airborne systems designed to help the U.S. Navy neutralize bottom and moored mines.
The Defense Department said Friday that Raytheon's integrated defense systems unit will also provide engineering and support services for the AN/ASQ-235 Airborne Mine Neutralization Systems under the firm-fixed-price contract.
The Navy will deploy the AMNS from MH-60S multi-mission helicopters as part of the mine countermeasures mission module of Littoral Combat Ships, DoD added.
AMNS will consist of a carriage, steam, tow and recovery system, common console display, common neutralizer vehicle and a launch and handling system.
The Navy obligated $10.1 million in fiscal 2015, 2016 and 2017 "other" procurement funds at the time of award.
Raytheon will perform work in Portsmouth, Rhode Island, through May 2019.