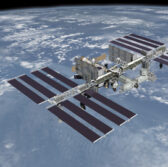 NASA is looking for industry partners that can help the agency develop concepts for the development of an in-space laboratory to fabricate multiple materials for exploration missions.
The agency said Thursday the FabLab solicitation, issued as part of the Next Space Technologies for Exploration broad agency announcement, will consist of three phases with the goal to build a multimaterial fabrication laboratory on the International Space Station.
"Having an integrated capability for on-demand manufacturing and repair of components and systems during space missions will be integral for sustainable exploration missions," said Jim Reuter, deputy associate administrator for programs at NASA's space technology mission directorate.
"We want to increase the number of materials we can use to manufacture items on-demand in space and improve overall manufacturing efficiencies as well," noted Jason Crusan, director of NASA's advanced exploration systems division.
The first phase of the FabLab project will focus on prototyping of a manufacturing system and the second phase will  further development work on proposed technologies.
NASA said the NextSTEP public-private partnership will use a cost-sharing development model in efforts to develop technologies to aid human exploration missions in deep space.