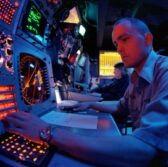 MacAulay-Brown has received a three-year, $8.5 million task order to support engineering and demonstration of electronic warfare systems at the Air Force Research Laboratory.
MacB said Monday the order falls under the Spectrum Warfare Evaluation and Assessment Technology Engineering Research contract and the company will perform work at AFRL's headquarters at Wright-Patterson Air Force Base in Ohio.
The SWEATER program covers electronic warfare demonstrations and assessments, operations and program security, radio frequency sensor capability prototyping and  system engineering and analysis for anti access/area denial environments.
The company will use a systems engineering process to assess and characterize interactions between radio frequency systems in laboratory and realistic combat scenarios.
MacB also seeks to help AFRL understand and define new technology platforms the service branch can integrate into other Defense Department laboratories, test sites and contractor facilities.