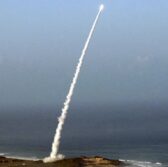 Lockheed Martin has decided not to bid on a U.S. Navy contract to develop an over-the-horizon missile for the service branch's frigates and littoral combat ships, Defense News reported Wednesday.
Lockheed"™s decision came after Boeing decided to withdraw from the Over-the-Horizon Weapon System competition earlier this month.
"As the current OTH-WS request for proposal process refined over time, it became clear that our offering would not be fully valued," Scott Callaway, director of advanced subsonic cruise missiles at Lockheed"™s missiles and fire control unit, was quoted as saying by Defense News.
Lockheed is in the development phase for an air-launched version of its Long Range Anti-Ship Missile for the Naval Air Systems Command.
Industry sources told Defense News that in-flight targeting and networking capabilities of the missile are being overlooked as the service branch continues to refine the requirements in the OTH-WS program's RFP.
The report said Saab also decided not to submit a proposal for the program.
The decision of Lockheed and Boeing to drop out of competition leaves the Raytheon–Kongsberg team as a likely bidder for the program.
Proposals for the OTH missile program are due June 23, the report added.