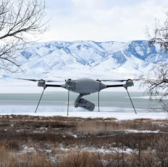 Lockheed Martin has integrated a TrellisWare Technologies-made software platform into a quadrotor unmanned aerial system designed for military intelligence, surveillance and reconnaissance missions.
The Indago 3 UAS is equipped with TrellisWare's TW-600 Ocelot module as well as an updated propulsion technology, a military-grade data link, a mechanism for video dissemination and an extended-range radio system, Lockheed said Monday.
"We are pleased to partner with Lockheed Martin to help enhance Indago 3's airborne networking in challenging environments," said Matt Fallows, director of applications and systems at TrellisWare.
Fallows added the Ocelot module features the TSM mobile ad-hoc network radio technology.
Indago is built to operate for up to 50 minutes at a speed of 25 miles per hour in low- or high-temperature environments.
Lockheed's Procerus Technologies business serves as the original equipment manufacturer of Indago UAS.