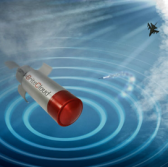 Leonardo has agreed to collaborate with the U.K. air force's rapid capability office to accelerate the delivery of radio frequency countermeasure systems and other technology platforms to warfighters.
Leonardo and the Royal Air Force aim to develop a third-generation expandable active decoy platform and bring it to operational use through the RCO, the company said in a May 9 news release.
The company-built BriteCloud system is a second-gen EAD that works to protect fighter jets from radar-guided missiles and can be fielded from a chaff and flare dispenser platform.
RAF plans to develop concepts of operations to facilitate the use of the EAD platform by pilots in military missions.
The U.K. defense ministry has invested approximately $32 million to conduct research and further develop BriteCloud  through its defense science and technology laboratory.
The partnership came nearly a year after Leonardo secured a $3.3 million contract to produce and supply BriteCloud EADs to RAF.