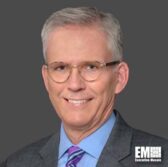 James Reagan, chief financial officer at Leidos, has said he is pleased that the federal government no longer operates under a continuing resolution.
He made the statement four days after President Donald Trump signed a $1 trillion omnibus spending package to fund government operations through the end of fiscal 2017 and increase defense spending by $21 billion.
"Where we see the money in the budget falling makes us feel confident about the outlook for where funding sources are and where that's going to be spent relative to the priorities of the government," he said Tuesday at the Oppenheimer's 12th Annual Industrial Growth Conference.
Reagan, an inductee into Executive Mosaic's Wash100 for 2017, also echoed Leidos CEO Roger Krone's concerns about the slow pace of leadership appointments at federal agencies and the disruption it causes on the acquisition process, the Washington Business Journal reported Wednesday.
"This administration has been a little bit slower than you ordinarily would have expected in getting executive-level appointments in front of the Senate for confirmation," he said.
He also told investors at the conference that Leidos returned a "strong" first quarter following its merger with the information systems and global solutions business acquired from Lockheed Martin.