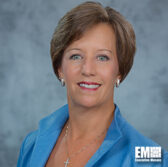 Rebecca Cowen-Hirsch, senior vice president for government strategy and policy at Inmarsat, has said the launch of the fourth Boeing-built satellite for the Global Xpress satellite communications network seeks to validate Inmarsat"™s efforts to promote resilience within its satcom offerings.
The Inmarsat-5 F4 satellite lifted off Monday aboard a SpaceX-made Falcon 9 rocket from a launch pad at NASA"™s Kennedy Space Center in Florida.
Cowen-Hirsch wrote in a blog post published Thursday the launch of the I-5 F4 satellite also seeks to strengthen "in-orbit redundancy" in an effort to support the reliability of Inmarsat"™s satcom products.
She noted Inmarsat"™s GX network is designed to be interoperable with Ka-band military satcom platforms and that the addition of I-5 F4 to the commercial satellite network seeks to deliver additional coverage and capacity to service personnel in support of their missions.
Cowen-Hirsch discussed how the first three Inmarsat-5 satellites have provided global connectivity to government users since July 2014.
She also cited the GX"™s ground network and its corresponding satellite access stations, Meet Me Points systems as well as portable and fixed satellite terminals.