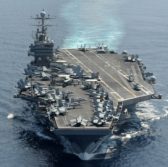 Huntington Ingalls Industries has turned over the USS Abraham Lincoln nuclear-powered aircraft carrier to the U.S. Navy following sea trials and a recapitalization effort.
HII said Friday the sea trials validated the carrier's systems that underwent refueling and complex overhaul, or RCOH, at the company's Newport News Shipbuilding division.
The Navy awarded HII a potential $2.6 billion contract in 2013 to refuel USS Lincoln's reactors and upgrade its compartments and systems.
Chris Miner, Newport News vice president of in-service aircraft carrier programs, said the four-year project aimed to prepare the carrier for another 25 years of service.
RCOH is carried out once during the ship's 50-year lifetime and involves almost all of the carrier's components such as tanks, hull, shafting, propellers, rudders, piping, ventilation, electrical, combat and aviation support systems, HII noted.
USS Lincoln is the fifth Nimitz-class carrier to undergo RCOH and will be followed by USS George Washington, which will arrive at Newport News in the summer.