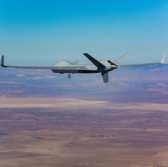 General Atomics' aeronautical systems business unit has flown a "certifiable" variant of the company-built Predator B remotely piloted aircraft for 48.2 hours non-stop, breaking a company record for the longest endurance flight of any Predator-series platform.
The MQ-9B SkyGuardian set off on May 16 from Yuma Proving Grounds, Arizona with 6,065 pounds of internal fuel then flew between 25,000 and 35,000 feet before landing on May 18 with 280 pounds of reserve fuel, General Atomics said Thursday.
SkyGuardian broke the record held by GA-ASI's Predator XP, which operated for 46.1 hours in February 2015.
General Atomics began to develop SkyGuardian in 2012 through an internally-funded initiative and the company plans to roll out the first production aircraft in 2018.
SkyGuardian is designed to meet airworthiness requirements of civilian airspace while its SeaGuardianTM maritime patrol variant is intended to support open ocean and littoral surface surveillance.
The British air force selected a weaponized variant of SkyGuardian for its Protector program.
All three versions are built to fly for approximately 35 hours with speeds of up to 210 knots and altitudes of more than 40,000 feet, General Atomics noted.