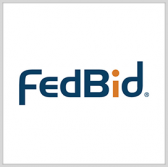 FedBid has secured a potential five-year contract to provide reverse auction services and acquisition strategy support across the Commerce Department.
The company said Wednesday the contract was issued through the U.S. Patent and Trade Office and can be used by buyers from all Commerce Department bureaus and offices.
FedBid has facilitated more than $83.6 million in contract awards for the department through the company's reverse auction marketplace since 2012.
The Commerce Department has saved approximately $6.5 million compared to the department's original Independent Government Cost Estimates through the use of FedBid's reverse auction platform, according to the company.
The platform is designed to facilitate the contract award process based on current market pricing for the product that the buyer looks to purchase.
FedBid also received similar contracts from the departments of Labor and Agriculture during the month of April.