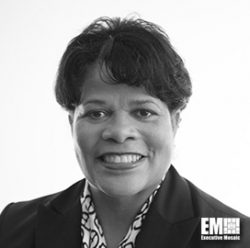 Marilyn Crouther is senior vice president and general manager, U.S. Public Sector, at DXC Technology (NYSE: DXC). She is one of Executive Mosaic's Wash100 for 2017 and an influential leader in the government contracting arena. Crouther played a pivotal role in the merger of Hewlett Packard Enterprise (HPE) and Computer Sciences Corporation (CSC) into a new entity called DXC Technology.
She has nearly 30 years of experience leading large, complex IT projects and before her current role, was senior vice president and general manager for Hewlett Packard Enterprise"™s U.S. Public Sector.
In this conversation with ExecutiveBiz, Crouther provides a look at what major mergers of this kind look like and how DXC plans to revolutionize the market and help the government's IT offerings to be better connected with citizens.
ExecutiveBiz: It has been less than a month since the merger and formation of DXC Technology. Could you share your observations of how it is going?
Marilyn Crouther: It has been very exciting from day one up until today. As an employee and [as part of the] leadership team, [we] feel like a new company and the combined strength of the two organizations is … is industry leading. So the excitement here and the momentum is pretty good. We"™ve reached out to most of our clients and they are excited about what we have to offer as a combined team.
ExecutiveBiz: You brought two very strong entities together with CSC and Hewlett Packard Enterprise Services. What do you see as the strengths that each of those entities bring to the formation of this new company?
Marilyn Crouther: DXC Technology is the world"™s leading independent end-to-end IT services company. We will lead our clients through accelerating change – helping them to harness the power of technology to deliver new outcomes for our clients.
Combining the two companies is something that we believe offers a brand that is built on a foundation of trust and transformation with the relentless drive to help our clients thrive on change.
You will hear us talk about trust, transform and thrive, which are things that we believe are imperative to a solid relationship and partnership as we move forward. We think it is imperative that we earn our customer"™s trust. After all, they are really betting their future on us and the technology solutions that we deploy.
We have the combined experience, and a calm hand to help them on their digital transformation journey, or any technology-driven business transformation. We are in the best position to help them do that. Together we have greater resources; we have better talent. We have a larger global reach; and what we will be able to do is give them the confidence to manage through change, and to take those business challenges head on.
ExecutiveBiz: Within the current markets that you serve, where do you see expansion opportunities with the new company?
Marilyn Crouther:   We have set up our company focused on nine offering families. In the public sector, we have a wide client base.  We see opportunity for expansion in cloud and workload as well as enterprise and cloud applications.  We see opportunity for expansion in security, workplace and mobility, application services, analytics and consulting, as well as business process services and industry solutions and services.
ExecutiveBiz: DXC Technology serves six major industries. Within the public sector, where do you see DXC bringing the most value?
Marilyn Crouther: We are absolutely committed to the public sector business and we fully intend to compete for and deliver additional innovative services to our customers.
One of the things that I think will be unique about DXC Technology is our independence, our global talent, the expertise the combined entity has, and our extensive partner network.
ExecutiveBiz: Within the IT services market in the public sector, where do you see the public and private sector enhancing their collaborative efforts to work together?
Marilyn Crouther: As the government shifts it"™s focus from traditional IT to what IT can do, public and private sector can deliver better outcomes to end users with some of the offerings that we spoke about earlier.  We believe that DXC Technology is in the best position to deliver solutions that help clients transform their enterprises to do things like increased citizen and workforce engagement, enable quick easy access to information anytime and anywhere, manage resources, and enhance operations that serve and protect our citizens. It is still about efficiency of operations and ensuring that we bring the best skill and the best business solutions to help solve business problems.
ExecutiveBiz: Your generosity and philanthropy is well-known and we have seen that exhibited with the Boot Campaign and Home of the Brave. Tell us a little about what you are involved with now.
Marilyn Crouther: You mentioned the Boot Campaign, which is near and dear to my heart. As you know with the grassroots veterans community service projects, we have an amazing team of volunteers.  They will be coming together [in May] to assemble about 500 Honor Packs for veterans across the U.S., in medical centers and in community-living facilities for homeless veterans.
We also have an annual Duck Race for the Cure, to raise money to help eradicate breast cancer. Since 1996, scores of our employees have donated more than $480,000 for our Duck Race for the Cure charity.
We are also very connected to the American Heart Association. It is another big initiative that we do here in Herndon as well as across the sites where we live and work. Those are the three big items: our veterans' initiatives around the Boot Campaign, Duck Race for the Cure and the American Heart Association.