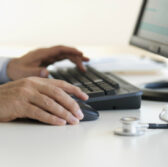 Document Storage Systems has received a potential $19.6 million contract from the Department of Veterans Affairs to develop and deliver an online system that works to help military retirees schedule and modify medical appointments.
VA awarded the contract to the Juno Beach, Florida-based health information technology platforms provider under a pilot program created in compliance with the Faster Care for Veterans Act of 2016, DSS said Wednesday.
DSS will team up with Insignia Technology Services, Minburn Technology Group, Ideal System Solutions and Rainmakers Strategic Solutions on the project.
"We are proud to be playing a key role in helping to support congressional mandates that allow veterans to schedule and confirm medical appointments through their mobile devices," said Mark Byers, DSS president and CEO.
DSS will use its ForSite2020 software platform to build a self-scheduling system.
The ForSite 2020 Resource Management System is an enterprise scheduling platform that has been implemented by the Indianapolis, Indiana-based Richard L. Roudebush VA Medical Center since 2000.