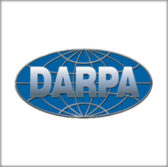 The Defense Advanced Research Projects Agency aims to release a draft request for proposals on a potential five-year, $850 million contract for analytical and technical support services by early June.
DARPA said in a FedBizOpps notice posted Thursday it also plans to conduct one-on-one meetings with potential vendors in mid-June before it issues the final RFP for the multiple-award, indefinite-delivery/indefinite-quantity contract by mid-July.
The agency plans to accept proposals by August for the DARPA-Wide Technical and Analytical Support Program.
DARPA plans to award task orders in the form of fixed-price and cost-reimbursable contracts under the IDIQ contract that will have a base period of five years with two five-year award terms, according to a sources sought notice.
Technical support may cover the provision of research and development program oversight support, acquisition support, subject matter expert services to program managers, technical and operational research analysis as well as evaluation and assessment.
Analytical services may include executive assistance, front office support, personnel support, planning, website, graphics and travel management services.