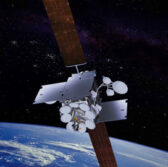 COMSAT has received a blanket purchase agreement from the Defense Department to provide internet protocol-based mobile satellite communications services through Inmarsat's Global Xpress Ka-band network and Broadband Global Area Network.
COMSAT will work to deliver voice, video and data services to uniformed personnel through portable satellite terminals and help DoD meet its global mobile communications requirements, Inmarsat said Wednesday.
David Greenhill, president of COMSAT, said the company is pleased to provide high-speed data services to deployed troops worldwide through Global Xpress.
The Herndon, Virginia-based satcom services provider partners with Inmarsat as a value-added reseller and has developed a terrestrial network that links its Multiprotocol Label Switching network to Inmarsat's infrastructure.
The MPLS network uses BGAN and Global Xpress networks to support Non-classified Internet Protocol Router/Secret Internet Protocol Router services.
The BPA came two months after COMSAT received a contract to deliver Global Xpress satcom services to DoD personnel in Africa.