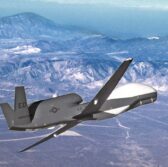 Cobham's satellite communications business and Inmarsat have unveiled a new unmanned aerial vehicle SATCOM service designed to help boost operational capacity for users.
Inmarsat said Monday the SwiftBroadband UAV SATCOM service was designed for use with Cobham SATCOM's Aviator UAV 200 terminal which combines various technologies into a compact and lightweight box and offers SATCOM connectivity.
The SB-UAV service provides users with up to 200 kbps data for real-time control of UAVs along with a capacity to transfer images or video recordings in parallel.
"We are extremely excited to be working with Inmarsat on providing the AVIATOR UAV 200 Satcom terminal and its associated service, SB-UAV to the unmanned aerial vehicle industry," said Andrew Legg, regional director of sales at Cobham SATCOM.
"We determined that a key enabler for the effectiveness of increased UAV deployment in the government market lay in the efficient transfer of information between these vehicles and decision makers," said Andy Start, president of Inmarsat's global government business.