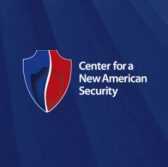 The Center for a New American Security has launched a new project that aims to analyze how the U.S. joint force should adapt to technological innovations of potential state and non-state adversaries.
CNAS said Monday the Evolving the Future Force project is part of the center's Defense Strategies and Assessments program and seeks to explore the U.S. military's capabilities through experimentation with new operational frameworks, adoption of emerging technologies and efforts to build on current programs.
Jerry Hendrix, a senior fellow and director of the DSA program, and Paul Scharre, senior fellow and head of CNAS' Future of the Warfare Initiative, will oversee the multi-year project.
The Evolving the Future Force project will operate with an advisory council to help oversee research efforts.
Council members include:
Andrew Krepinevich, an adjunct senior fellow at CNAS
Andrew Marshall, former head of the Defense Department's office of net assessment
Bob Durbin, chief operating officer of the Aerospace Industries Association and a retired U.S. Army lieutenant general
Charlie Coolidge, vice president of air force programs at Airbus' defense and space business and a retired U.S. Air Force lieutenant general
Chris Pehrson, VP of strategic development at General Atomics' aeronautical systems business
Christine Fox, assistant director for policy and analysis at Johns Hopkins University Applied Physics Laboratory
David Ochmanek, a senior defense research analyst at Rand
Greg Mallory, senior partner and managing director at BCG
James Miller, a senior fellow at Harvard's Belfer Center for Science and International Affairs
Janis Pamiljans, corporate VP and president at Northrop Grumman's aerospace systems business
Jim Thomas, a principal at The Telemus Group
Mackenzie Eaglen, a resident fellow at the American Enterprise Institute
Mara Karlin, associate professor and associate director strategic studies at Johns Hopkins-SAIS
Mark Fox, corporate VP of customer relations at Huntington Ingalls Industries and a retired U.S. Navy vice admiral
Rick Hunt, VP of U.S. business development at Raytheon
Robert Hale, a senior executive adviser at Booz Allen Hamilton
Robert Helm, senior VP of planning and development at General Dynamics
Robert Martinage, principal at The Telemus Group
Robert Rangel, SVP of government affairs at Lockheed Martin
Tim Hughes, SVP for global business and government affairs at SpaceX
Vince Logsdon, VP of Textron Systems
William Lynn, CEO of Leonardo DRS
CNAS will hold a panel discussion titled Innovation and the Future Force on Wednesday in Washington to mark the project's first event.