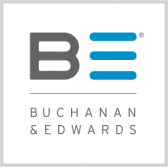 Buchanan & Edwards will open a Chantilly, Virginia-based innovation center next month as part of expansion efforts following the information technology consulting firm's acquisition of Reports and Requirements Company.
BE said Tuesday it signed a five-year lease to occupy office space at 15040 Conference Center Drive in a move to further its strategic development goals in the national security market.
The leased facility will provide space for group presentations, training, customer and partner meetings and collaborative activities of internal teams.
"We are excited to have this great opportunity to expand and bring part of our team closer to some of our national security customers and partners in Fairfax County," said BE President and CEO Dennis Kelly.
BE will also continue to support its Washington-based clients through the company's headquarters in Arlington.