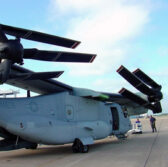 Boeing and Triumph Group have entered an agreement to extend the latter's support for the V-22 Osprey tiltrotor aircraft under a contract the joint venture of Bell Helicopter and Boeing is slated to negotiate with the U.S. Navy.
Bell Boeing and the Navy will work out the third multi-year order for the V-22 program before the end of 2017, Triumph said Tuesday.
The agreement with Boeing extends Triumph's current statement of work on the second V-22 multi-year contract and brings back work that the latter company previously secured through the first multiyear order.
Triumph will supply empennage, elevator, ramp extensions, ramp mounted weapons system floor boards, main landing gear doors and sponsons for V-22 through 2024 under the third multiyear order.
The updated statement of work also covers production of cargo ramps and doors.
Triumph's aerospace structures site in Red Oak, Texas, and precision components facility in Milledgeville, Georgia, will carry out deliveries under the third multi-year contract from 2019 through 2024.