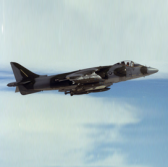 Boeing has awarded ViaSat a potential $20 million contract to manufacture small tactical terminals for integration onto AV-8B Harrier attack planes for the U.S. Marine Corps and international defense customers.
ViaSat said Monday its KOR-24A STT units will work to help Harrier pilots communicate with other U.S. and allied airmen or ground forces via the Link 16 and Soldier Radio Waveform networks.
"This order from Boeing for the Harrier increases the quantities of STTs either in the field or on order to well over 1,200 units and we anticipate a market with at least several thousand additional units to follow," said Ken Peterman, president of ViaSat's government systems unit.
Peterman added that the selection reflects how the company's commercial approach to product development can create technologies that help warfighters address operational gaps.