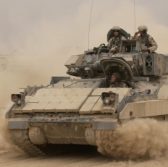 A business unit of BAE Systems has received a $7.9 million "performance incentive fee" from the U.S. Army for the completion of automotive forward speed, acceleration, and slope operation tests on Bradley vehicles.
BAE's land and armaments business secured the payment through a contract modification for the Bradley engineering change proposal effort, the Defense Department said Monday.
Work under the modification is scheduled to be completed by Sept. 15.
The Army used fiscal 2017 research, development, test and evaluation funds to cover the incentive pay.