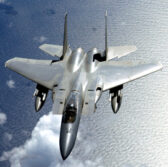 Boeing and BAE Systems have concluded a critical design review of an electronic warfare warning platform for the U.S. Air Force's fleet of F-15 fighter aircraft.
The companies wrapped up the CDR phase on the Eagle Passive/Active Warning Survivability System in February as part of the F-15 modernization program, BAE said Monday.
EPAWSS is designed to equip the service branch's F-15s with EW capability and works to provide situational awareness, geolocation and radar warning data to help air crews detect and counter aerial and surface threats in signal-dense environments.
Col. Tim Bailey, F-15 program manager for the Air Force, said the CDR completion would help facilitate the deployment of EPAWSS designed to provide defensive and jamming capabilities to F-15 air crews.
BAE also completed the CDR phase on EPAWSS' EW suite in 2016 in New Hampshire.