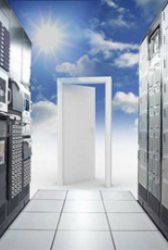 Oracle and AT&T inked an agreement to move thousands of AT&T's large scale internal databases to Oracle's Cloud Infrastructure as a Service (IaaS) and Platform as a Service (PaaS,) according to a press release.
Thousands of existing AT&T data stored on Oracle databases and associated applications workloads will be moved to Oracle Cloud.
"This is an historic agreement," said Mark Hurd, the CEO of Oracle. "The Oracle Cloud will enable AT&T to use Oracle technology more efficiently across every layer of the technology stack. This includes AT&T's massive redeployment of Oracle Databases, which will be provisioned entirely from the Oracle Cloud Platform including our highly cost effective Exadata as a Service."
According to Oracle's press release, AT&T will have global access to Oracle's cloud portfolio offerings both in the public cloud and on AT&T's Integrated Cloud. This includes Oracle's IaaS, PaaS, Database-as-a-Service (DBaaS), and Software-as-a-Service (SaaS.)Â AT&T also agreed to implement Oracle's Field Service Cloud (OFSC) to optimize scheduling and dispatching for over 70,000 field technicians.
AT&T states that its goal is to virtualize 75 percent of its core network functions by 2020. They plan to reach 55 percent by the end of 2017.
"We believe that the future of the network is to be data-powered, to be software-centric, and to be fast and responsive," said John Donovan, chief strategy officer and group president of AT&T Technology and Operations. "…This collaboration with Oracle accelerates our network transformation and migration to the cloud to expand efficiency, performance, and reduce cost while improving overall customer service."