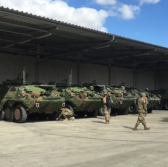 The U.S. Army's 2nd Cavalry Regiment has begun a field evaluation of a Saab-developed mobile camouflage system as part of operational training activities in Hohenfels, Germany.
Saab said Friday the service branch is testing Barracuda MCS on Stryker fighting vehicles with NATO allies that support Operation Atlantic Resolve and the Enhanced Forward Presence missions.
MCS offers multi-spectral signature management properties designed to help wheeled-vehicle and combat vehicle platforms blend in with environmental surroundings and reduce the probability of visual detection.
The system also works to disrupt near infrared, short-wave infrared, long-wave infrared, mid-wave infrared and radar detection technologies during missions.
"Current efforts to support U.S. Army Europe with MCS are ongoing and could eliminate field-improvised vehicle camouflage and negate the need to re-paint vehicles to match operational environments," said Scott Caldwell, director of marketing and sales at Saab business unit Barracuda.
"The general feedback from U.S. Army soldiers was that the MCS successfully reduces the overall signature of their vehicles."