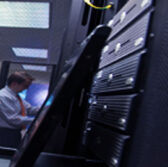 The U.S. Army has begun its search for a potential contractor to provide chief information officer services support to the military branch's G-3/5/7 organization.
A FedBizOpps notice published Friday says the Army G-3/5/7 needs contractor support to manage information technology governance process, enterprise architecture and IT portfolio that includes the warfighting mission area.
Interested parties have until June 5 to respond to a request for information.
The Army Contracting Command looks to procure the services on behalf of the G3/5/7 organization through a firm-fixed-price contract that will have a 12-month base period of performance and up to four 12-month options, according to the notice.